Kowsar Hotel 5*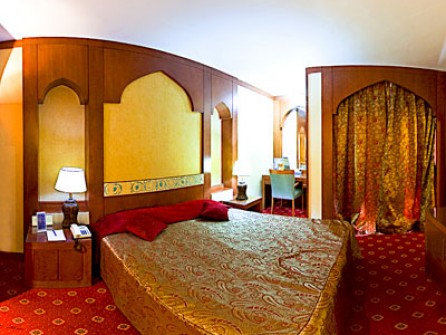 Kowsar Hotel offers a high standard of quality apparent in the entire hotel furnished with all amenities. The hotel is located close to the center, near the bus station and train station (about 10 minutes) and the commercial center of the city. Consisting of two buildings, a newer and a much more conservative one, this 5 stars is among the best hotels in the country, one of the few in the whole Iran to be a "green" hotel saving the environment.

At the front desk staff is available 24 hours and offers a wake-up service and telephone, exchange, bank service, laundry and taxis. The hotel offers a parking, a "business" floor with 4 conference rooms, a café/bistro offering snacks, a cozy wine bar/brasserie, a Turkish bath, sauna, tennis courts and 2 restaurants.

The hotel offers 192 rooms including 12 junior suites and 5 royal suites. All rooms have bathroom with hairdryer, air conditioning and heating, satellite TV, mini-bar, telephone and safe; on request you can also have rooms with balcony.