Ferdowsi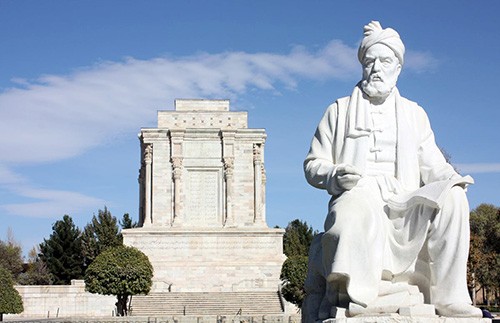 Ferdowsi
Abu ʾl-Qasim Ferdowsi Tusi was a Persian poet and the author of Shahnameh ("Book of Kings"), which is the world's longest epic poem created by a single poet, and the national epic of Iran and the Greater Iran. Having drafted the Shahnameh under patronage of the Samanid and the Ghaznavid courts of Iran, Ferdowsi is celebrated as the most influential figure in Persian literature and one of the greatest in the history of literature. He is widely regarded as the greatest poet in the Persian language. He was called "The Lord of the Word" and "The Savior of Persian Language"
With Ferdowsi's immortal poem, the Shah-nama, epic poetry rose to the height of its achievement
almost at its beginning. Hailed as the greatest monument of Persian language and one of the major
world epics, it consists of some fifty thousand couplets relating the history of the Iranian nation in myth,
legend, and fact, from the beginning of the world to the fall of the Sassanian Empire. Ferdowsi, who
belonged to the landed gentry (dehqan) and was well versed in Iranian cultural heritage and lore, fully
understood the sense and direction of the work he was versifying. His approximately thirty years of
labor produced a magnificent epic of tremendous impact.
Tomb
Ferdowsi was buried in his own garden, burial in the cemetery of Tus having been forbidden by a local cleric. A Ghaznavid governor of Khorasan constructed a mausoleum over the grave and it became a revered site. The tomb, which had fallen into decay, was rebuilt between 1928 and 1934 by the Society for the National Heritage of Iran on the orders of Rezā Shāh, and has now become the equivalent of a national shrine.
Rustam and Suhrab
The hero Rustam stayed overnight in the palace of the King of Samangan.
During the night, the king's daughter Tahmina came to his room. She
asked Rustam to father her child, and he agreed. He left the palace soon
after, and later heard that his son, Suhrab, had been born.
Years later, Rustam and Suhrab met for the first time in battle. Rustam was
fighting for Iran, while Suhrab fought for the enemy territory of Turan.
Suhrab, a brave warrior, challenged the Iranian army to produce someone
to fight him, and Rustam was chosen. Neither soldier knew the identity of
his opponent. The long battle ended when Rustam killed Suhrab with his
dagger.
As Suhrab lay dying, Rustam recognised an amulet on Suhrab's arm –
it was one that Rustam had given to Tahmina years before. With great
sorrow, Rustam realised that he had killed his own son.
Notes
• This tragic story is from Firdausi's Shahnama ('Book of Kings'), the
longest poem ever written by a single person (almost 60,000 couplets).
• The story is one of many in the Shahnama about the (non-royal) hero
Rustam