Mashhad Homa Hotel 5*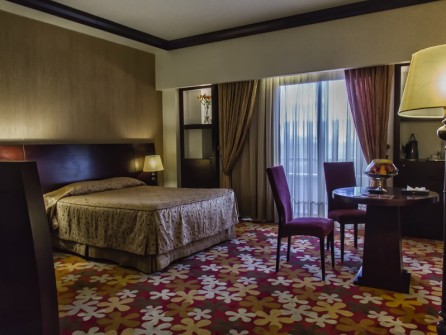 Mashhad Homa Hotel offers a fine choice for Mashhad accommodation. It is a sophisticated and secluded retreat set in an expansive park with manicured gardens, a selection of pretty suites and apartments, and a delightful banqueting salon, all within easy access to the city's attractions. The comfortable suites and apartments are beautifully furnished with high quality fabrics and classic furniture creating a warm and relaxing ambiance. Homa Hotel is located in the northwest quarter of Mashhad, within a few minutes walk of Sajad boutiques and Proma shopping centre.

Rooms come with Hair dryer as an additional source of comfort during your stay. En-suite bathrooms come complete with Bathroom with bathtub and shower, as well as other facilities. Rooms have self-catering facilities that include Coffee/tea maker and Kitchen/kitchenette. Guests have plenty of in-room entertainment options, including movie channels and Satellite television. The hotel has banquet facilities on-site, coffee shop, corridors are interior, elevators, private parking, conference rooms, printer/PC available on-site, deposit boxes, concierge service, breakfast/ buffet, express check in/out, 24-hour room service (charge), housekeeping, laundry services (charge), male barber shop (charge), Bank services, Air booking office on-site and a free scheduled transportation service to holy shrine of Imam Reza.