Kashan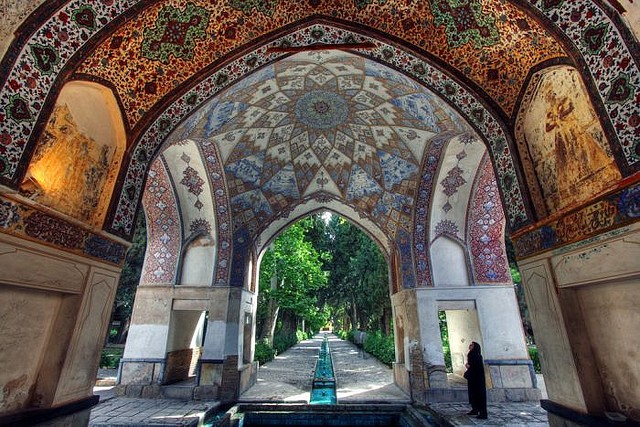 Kashan is the first of the large oases along the Qom-Kerman road which runs along the edge of the Great Desert. Its charm is therefore mainly due to the contrast between the parched immensities of the Kavir region and the greenery of the well-tended oasis. Kashan is located in the north of the province of Esfahan and is to the south of Qom. To the west of Kashan is the Markazi Province, to the east lies the city of Ardestan and to the south it is within the limits of Natanz and Esfahan. Kashan has been overshadowed by Esfahan; however, it can be accounted as one of the archaic cities of Iran.
Archeological discoveries in the Siyalk Hillocks which lie 4 km west of Kashan reveal that this region was one of the primary centers of civilization in the pre-historic ages. Kashan flourished during the Sassanid dynasty; but, it was demolished during the Arab invasion with the exception of a few ancient buildings remaining. Kashan became prosperous again during Seljuq times and is known for its ceramics since then.
Kashan once again was destroyed during Mongols invasion but it became an important town in the Safavid periods, and was the capital during the reign of Shah Abbas Safavid II. Some Safavid rulers preferred to live in Kashan rather than in the capital, Esfahan.
Kashan has long been known as flourishing center of arts and a cradle of Iranian artists. The cultivated, talented and dynamic people of this historic city have been particularly famous as manufacturers of excellent glazed vessels and tiles, weavers of fine brocades, velvets and silk fabrics, creators of superb carpets and rugs, and producers of various handicrafts, consistently being ranked as outstanding exponents of these arts and crafts.
Kashan is also the centre of rosewater production. The famous rosefields of Qamsar are located close to Kashan, so you'll see rosewater stalls everywhere. Rosewater is used in a lot of Iranian drinks and dishes.
---
Attractions