chogha zanbil
From Haft Tepe it is advisable to take a guide or ask for explicit directions to the great Elamite ziggurat of chogha Zanbil (Chogha is a local word meaning hill , while Zanbil means a large basket , which the unexcavated mound resembled).
The site is about 30 km. from Haft Tape , standing among low hills on the right bank of the river Ab-e Dez , a tributary of the Karun.
Cross the railway track from Haft Tepe , and follow a signposted road beside the Sugar Factory for some 20 km.
Across the plain , in normal conditions this is good enough for an ordinary car or small minibus.
The astonishing ziggurat can be seen from the track.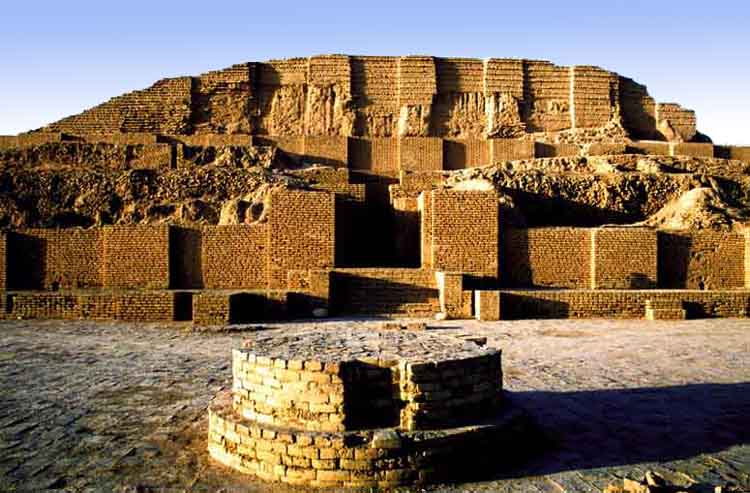 Built by Untash-Gal , King of Elam , about 1250 B.C , the massive artificial mountain was the focal point of his city of Dur Untashi , and was dedicated to the great god Inshushinak , Lord of Susa , symbolized by the from of a bull.
Although now much denuded compared with its original height , the ziggurat remains the largest man – made structure in Iran and is perhaps better preserved than any comparable monument to be found in Mesopotamia.
Chogha Zanbil was both a temple and a tomb and was built in the form of five boxes of increasing height , placed one inside the other.
The tallest , innermost tower was 28m. square at its base and nearly 50m. high, with four monumental, vaulted brick doorways each over 7m. high , leading into a complex of tombs , tunnels and chambers , some of which are over 15m. long.
On the flat top was a temple where the god Inshushinak was believed to ascend every night , and from thence to heaven.
Along with much else at the site , the temples at the base of the ziggurat were pillaged by the Assyrian , Ashurbanipal , when he overthrew the Neo-Elamite Empire – and also destroyd susa- c.640 B.C
Choghaz Zanbil consists not only of the ziggurat but of a large complex within an outer wall 1200×800m, constructed around a sacred enclosure some 400m.
Square and pierced by seven gates. Inside this enclosure were three temples and several paved courtyards with sanctuaries , as well as storehouses containing weapons and ornaments .
The ziggurat , with an outer base of 105 m. square , is built mainly of sun-dried brick bonded with cement and bitumen and was faced with glazed kiln – fired bricks of blue and green with a metallic shimmer , similar to those found at susa.