Alamut Qazvin
From Qazvin one can reach the Assassin (formerly Dailamite stronghold of Alamut and the shortest time in which the trip can comfortably be made is two days and a night.
Alamut (Eagle Nest) is only one of many Assassin strongholds in the Alborz and other mountain ranges of Iran and recent intensive studies include those by a Japanese team, led by professor M.
Honda of Hokaidu University, and peter Willey. The original Alamut castle was built c.A.D.860-861,Probably by religious refugees from the Abbassid caliphs. It was about A.D.1090 when Hasan al-Sabbah, The old man of the mountains, as Marco Polo called him, founder of an offshoot of the ninth century Esmaili sect,captured the castle and made extensive alterations, rebuilding the greater part.(Hasan al-Sabbah was born in Ray in 1040 and died in 1124; he is believed to have been buried in the Sanjideh Mosque in Kh. Darvazeh-e Ray in Qazvin. This small square building was possibly built on the site of a fire temple and restored in Safavid times.)
His practice of encouraging recruits by giving them hashish, then transporting them to a Valley near Alamut to awake in enchanting gardens with handmaidens waiting on them (the recruits thought this was, paradise), is believed by many to have given Hasans followers the name of Assassins, but Willey believes the name derives from assas or mission implying that they were followers of Hasans religious mission.
Willey also contends that their political assassinations, which made them so notorious, have been over-emphasized and their contribution to their deep religious, have been over-emphasized and their contribution to art their deep religious devotion and their sophisticated irrigation and defence system, have been overlooked or minimized.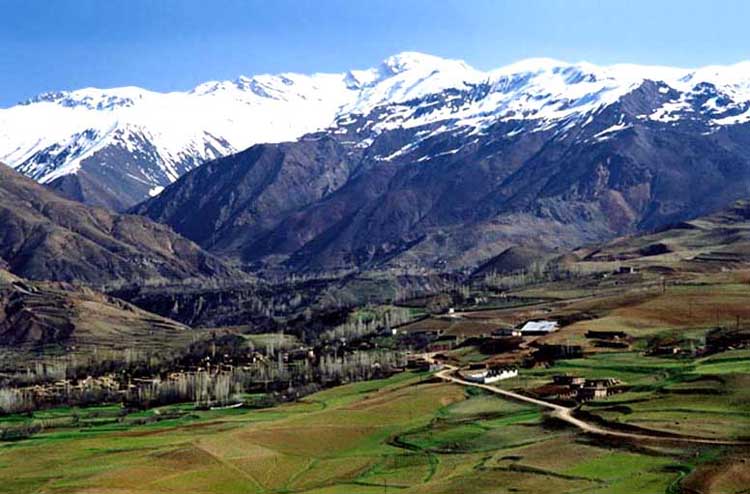 Alamut was probably rebuilt again in the Safavid period and used as a royal prison in the seventeenth and eighteenth centuries. It is not just a fortress but a complex of fortified living quarters, mosques,gardens,domestic and work rooms, underground chambers, wells and irrigation channels.
Today the ground is strewn with typical light green turquoise or yellow ochre pottery with geometrical patterns.
The great rocky outcrop is surrounded by higher mountains with magnificent views across the deep ravines and through the gaps in the hills. It was Hulagu khan, the Mongol, who captured and destroyed the castle in A.D.1256.
Among the several other Assassin castle near Alamut is the famous one of Maymoun Diz just above the village of shams Kilaya, to the north0-west by retracing the path back along the Alamut to Shahrak, and then turning north up a track to Shams Kilaya, from which there is a very steep and difficult climb to the summit of the great sand-stone rock.
Originally Maymoun Diz was a fortified garrison, castle and royal palace complex but it was utterly destroyed by Hulagu Khan.