Trekking in Takht-e Soleyman

Tehran – Takht-e- Soleyman – Kelardasht – Kamarbon - Gachsar - Tehran
Day 1: Tehran. Arrival at IKA. Our representative will meet you on arrival, help you with all the formalities and transfer to the hotel. Over night at hotel.
Day 2: Tehran – Kalardasht (167 km). AM. After breakfast we check out and drive to Kelardasht in North of Iran. Kelardasht is one of the most amazing recreational areas of Iran that is located in the heart of Alborz Chain Mountains. Drive via Chalus wonderful road. Transfer to Hotel. After some rest, enjoy traditional Northern food for lunch. Light trekking and sighseeing in the area. ON Hotel or local house.
Day 3: Kelardasht – Vandarbon (30 km) – Takht-e Soleyman. After healthy breakfast, drive to the village of Vandrbon, where we leave our cars and start trekking to Takht-e-Soleyman Massif. Enjoy beautiful mountainous scenery, picturing and filming, see the habitat of Ibex and natural sights of the area. Overnight camping.
· Takht-e Soleyman Massif is a subrange of central Alborz mountains. In the area, about 160 distinct peaks higher than 4,000m are distinguishable, with the highest, most famous, and most technical one: Alam Kuh, 4,850m. The area can be captured inside a rectangle of 30 km width and 40 km length. The massif is limited to Taleqan valley from south, Kelardasht green plane from east, Abbas Abad rain forest & thick vegetated hills/slopes at north, and Shahsavar rain forests and Se Hezar valley at west.
Day 4: Takht-e-Soleyman . Spend one more day in Takht-e-Soleyman areas. Overnight camping.
Day 5: Takht-e-Soleyman – Varvasht - Kamarbon. AM. Trekking to Varvasht peak, PM. Move to Kamarbon game reserve, watch and photograph Persian Ibex, brown bear in their habitat. Over night at rural house or camping.
Day 6: Kamarbon- Gachsar. After breakfast move to Gachsar. You can enjoy viewing, picturing or filming Ibex habitat and herds in Vaarangeh Rood game reserve. Arrive at Gachsar mountain village. O/N Tent or rural house.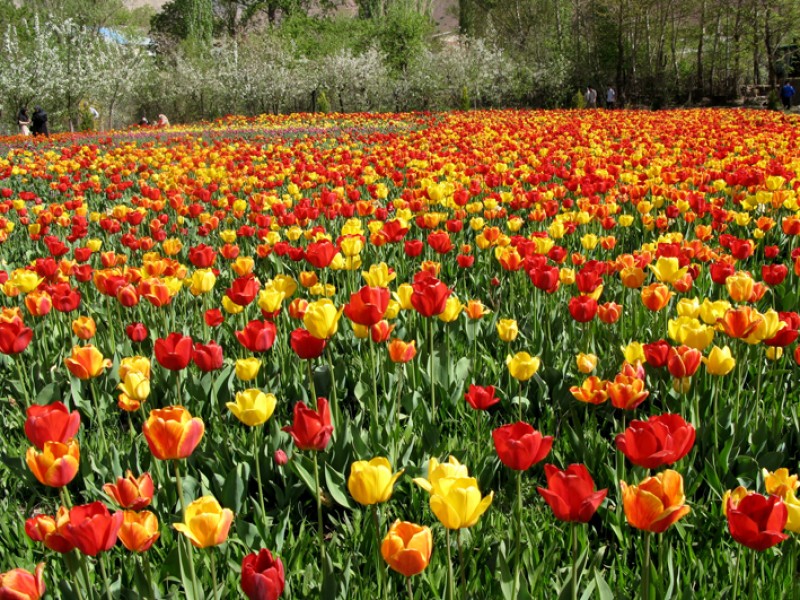 Day 7: Gachsar- Tehran (109 km). AM. After healthy breakfast, drive to Tehran. Transfer to hotel. After some rest, visit Tabiat (Nature) bridge In Tehran, the newest symbol of Tehran. It is the largest pedestrian bridge in Tehran (270 m) and was designed by a young female architect Leila Araghian. It connects two public parks—Taleghani Park and Abo-Atash Park. Over night at hotel.
Day 8: Tehran – IKA. Transfer to IKA, end of Program
Email us : info@iranjasminco.com