Classical Iran & Wildlife Safari
Tehran – Kashan -Muteh – Esfahan - Ghamishloo – Persepolis – Shiraz – Bamou - Tehran
Arrival in Tehran. We will book your hotel from one night before, as the arrival is going to be early in the morning. Meeting and assistance upon arrival as our representatives welcome you and escort you to your car, that will transfer you to the hotel. It's time to relax after the flight.
Day 1: Tehran - Muteh (407 Km). AM. After breakfast we'll drive to Muteh Protected Area in Isfahan Province. En route visit the historical city of Kashan that dates back over 6000 years. Visit Fin Garden, Borujerdi historical house & Agha Bozorg Mosque. PM. Arrive at the beautiful Googad Citadel Boutique Hotel. Relax in the authentic atmosphere before tomorrow's adventure.
Day 2: Muteh. After breakfast we'll drive to Muteh Protected Area. Muteh has high animal and plant biodiversity. The vegetation cover is mainly composed of mountain almond, been caper, wormwood, Persian globe thistle, poppy, salvia, borage, goat's wheat, almond and different astragals. Muteh is one of the best habitats for goitred gazelle in Iran. Other animal species include wild sheep, wild goat, leopard, wolf, cape hare, Indian crested porcupine, gray hamster, gerbil, chukar partridge, see-see partridge, quail, red billed chough, rock dove, golden eagle, falcon, sparrow hawk, vulture, turtle and agama. More than 300 plant species are found here, many of them have medical value. Drive back to the hotel for rest.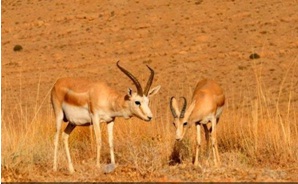 Day 3: Muteh – Isfahan (201 km). AM. While you're in Iran, you shouldn't lose the chance to visit Isfahan. It is one of the most beautiful cities in the Islamic world and is renowned for its abundance of great historical monuments. Iranians call Isfahan Nesf-e Jahan ('half of the world'), hinting that visiting this city is like seeing half of the world. After checking into the beautiful traditional hotel (Atigh Traditional Hotel or similar) we'll start from Naghshe Jahan Square with Emam Mosque, Sheik Lotfollah Mosque & Alighapou palace, continue on to Chehel Sotun Palace. PM. In the evening we will visit Isfahan famous bridges and stroll along the riverside at sunset.
Day 4. Isfahan – Ghamishloo (92 km). After breakfast drive to Ghamishloo. It is rich in plant and animal biodiversity and is of great importance for the protection of genetic reserves. Ghamishlou is a superb wildlife refuge in the proximity of Esfahan. High biodiversity, stunning vegetated hilly landscapes, proper access roads and historical monuments in the region have made possible the attraction of nature lovers and researchers.
•152 animal and 344 plant species have been identified in the region including 46 endemic species. Vegetation is generally steppe with astragal and wormseed accompanied by pistache, almond. Turk terebinth pistache, Montpellier maple, rhubard, feathered grass, thistle, prickly thrift, camel's thorn, primrose, poppy, desert rod, salvia, different tulips, borage and persicaria. Abundance of Esfahan wild sheep in the region is one of its characteristics. Other animal species include gazelle, wild goat, leopard, wolf, forest dormouse, chukar partridge, see-see partridge, sandgrouse, golden eagle, skylark, little owl, Schmidt's whip snake, lizard, green toad and minnow.
O/N Rural house.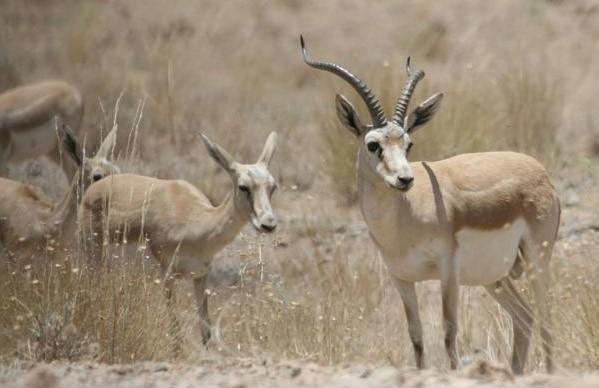 Day 5: Ghamishlou – Pasargad & Persepolis (335 km) - Shiraz (135 Km). AM. After breakfast drive to Shiraz, en route visiting of Pasargad archeological site (Cyrus Tomb). Excursion to Persepolis (Takht-e Jamshid), Necropolis (Naghsh-e-Rostam) and Naqsh-e Rajab (about 70 km per way). Afterward we'll visit the ruins of the ancient city of Persepolis. It is one of the highlights of any trip to Iran. Persepolis is the best preserved of Persia's ruined cities and the finest legacy of the great Achaemenid Empire which ruled Persia between 559 and 330 BC. The most impressive features of the ruins are the splendid bas-reliefs, which adorn many of the staircases and palaces on the site and provide a rich treasure house of ancient history. PM. Arrive in Shiraz , Overnight hotel.
Day 6: Shiraz. AM. Today we will take it easy and enjoy the beautiful city of Shiraz. Shirazians have the repulation of the friendlies and most relaxed people of Iran. We'll visit the top tourist sights today: Vakil Mosque, Bazaar & Bath, Karim Khan Citadel, Naranjestan Garden. PM. We'll visit Hafez tomb, the most beloved Persian poet, and watch locals recite his poems and relax in the park beside the tomb. After that visit stunning Shah Cheragh Masoleum adorned with numerous pieces of mirrors. Transfer to the hotel. Overnight hotel. )
Day 7: Shiraz – Bamou – Shiraz. AM. After breakfast drive towards Bamou National park (43.3 Km). Bamou National Park with an approximate space of 48 thousands hectare encompasses 32 mammal species, 91 bird species, 19 creeper species and 3 amphibian species. On the other hand, the rich flora of this region consists of 350 species among which 51 kinds are endemic to this park and make it a uniquely gifted and diverse national park. The park has vast plains and also mountainous areas. PM. O/N hotel in Shiraz.
Day 8: Shiraz – Tehran. AM. After breakfast we check out and head to the domestic airport for a short flight to Tehran (1H30). We will continue on to the guided tour, exploring the historical centre of Tehran. We will visit Golestan Palace, National Museum and Grand Bazaar. PM. Visit Carpet Museum in the beautiful Laleh Park. One of the oldest and most important carpets, available in this museum, is called 'Sangeshku' that carpet dates back to Safavid era. After that take a walk in the park and enjoy the local vibe. Transfer to the hotel.
Day 9: Tehran – IKA. Transfer to the airport for the return flight
Email us : info@iranjasminco.com
We will offer you a price on your request