Cultural Safari
10-day Cultural Safari
YAZD-KERMAN-ESFAHAN-KASHAN-TEHRAN
Arrival in Tehran. We will book your hotel from one night before, as the arrival is going to be early in the morning. Meeting and assistance upon arrival as our representatives welcome you and escort you to your car, that will transfer you to the hotel. It's time to relax after the flight.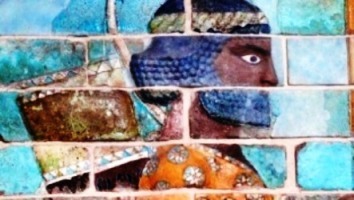 Day 1: Tehran-Naein (455 Km), After late breakfast we will head to Naein. Besides its magnificent monuments, Na'in is also famous for high-quality carpets and wool textiles. Visit Jame Mosque,initial construction of Jame Mosque dates back to the 8th Century. (B)
Rigareh Water Mill, ancient Rigareh—a qanat-based water mill—is located in the Mohammadieh neighbourhood.The age of this engineering masterpiece is unknown; however, some historians believe that it dates back to the pre-Islamic era. The water is supplied by the Keykhosrow qanat channel and the mill is placed almost 28 m underground. The access corridor to the mill is about 133 m long.
Pirnia traditional house and ethnology museum is a perfect example of this region's desert houses in terms of architecture and art and was constructed in the Safavid Period. The house consists of an exterior, an interior, a deep garden, a silo room and all of the facilities that a lord's house needed to have at the time it was constructed. When you enter the house and pass the first corridor, you reach an octagonal room called "hashti", which used to be a waiting room for clients and visitors.
Narenj Qal'e (1.2 Km) is a remnant of a structure that was also known as Narin castle. The construction materials used in the castle, as well as its style of architecture support the idea that it was built in the pre-Islamic era. According to surveys and other evidence, this monument might belongs to the Partiyan period. Fatemi House is the grandest traditional house in Na'in. It is located in front of Narenj Castle, beside the old bazaar of Na'in.
The house was originally the possession of one of the most influential families in Na'in. The Bazaar is O/N in Nain Tourist Inn 3* or similar.another of Na'in's remarkable, historical attractions.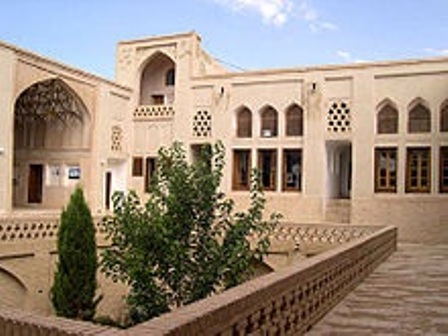 Day 2: Nain – Meybod – Yazd (168 km). AM. Drive to Yazd via Meybod. These are the magnificent oasis cities amidst Iranian desert. Meybod is an ancient city that goes back to pre-Islamic arena and, hence, is the home to many ancient points of interests. We will visit Meybod castle and 'yakhchal' (traditional fridge). PM. Arrive in Yazd. Have a short city tour: Amirchakhmagh complex, Jame Mosque, Eskandar Prison, Fire Temple, Khan School, Shesh Badgir. O/N
Day 3. Yazd - Kalmand (60 km) – Yazd. AM. After breakfast, we move toward Kalmand-Bahadoran protected area located in 30-105 Km SE of Yazd city. Aimed at protecting suitable habitats for the rare species of houbara bustard as well as goitred gazelle and Pleske's ground jay, this region was designated protected area in 1990. The desert environment along with adjacency to Shirkuh heighs have resulted in high biodiversity and the creation of beautiful desert, steppe and mountainous landscapes. Turk terebinth pistache, bean caper, tamarisk fig, wormseed, summer cypress, astragal, caterpillar plant, thyme, prickly thrift and milfoil are the main plant species of the region. Some of the animal species include wild goat, cheetah, Persian jird, jerboa, caracal, houbara bustard, chukar partridge, kite, buzzard, eagle, griffon vulture, saker, falco, Mediterranean spur-thighed tortoise, monitor and dwarf sand boa. A number of Persian wild asses are also brought into the region, which are kept at the Kalmand wild ass rearing center.We will picture and film while trekking. PM. Drive back to the marvelous city of Yazd, visiting of Zookhane, traditional Persian gym. It's truly a unique experience. O/N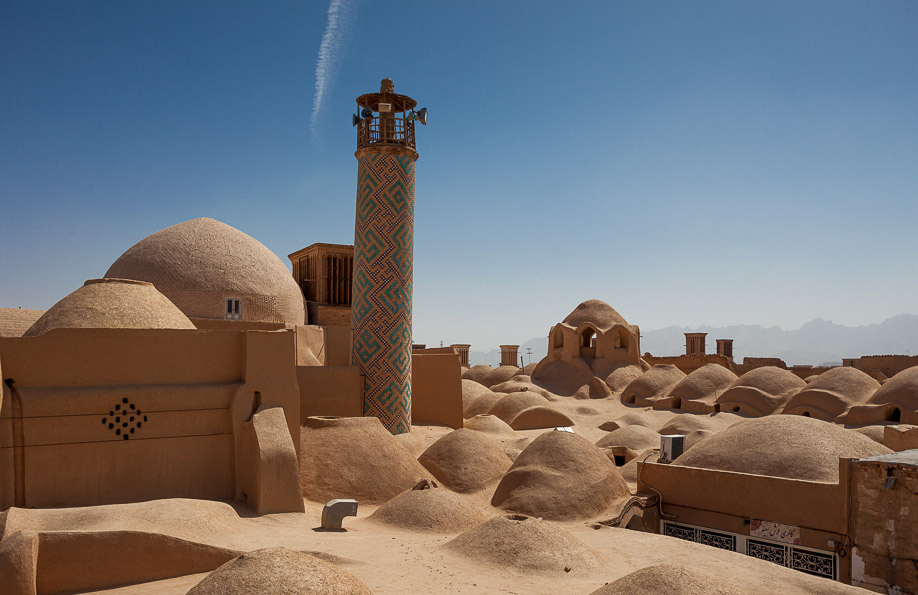 Day 4: Yazd - Kerman (372 Km). AM. Move towards Kerman, the city located on a high margin of Kavir-e lut (Lut Desert) in the central south of Iran. PM. After lunch, we will set on the city tour, visiting Ganj Alikhan Complex & Jame Mosque. overnight
Day 5: Kerman – Kavir-e Lut (100 km) - Mahan (80 Km) – Kerman (36 km). AM. We'll get up early in the morning to drive to the majestic Iranian desert to see 'Kaluts', peculiar desert formations, shaped by centuries of extreme water and soil erosion. It's also said to be the hottest place in the world. The temperature in the Lut Desert can exceed 65 degrees centigrade in the shade in summer. PM. On the way to Kerman visit the town of Mahan famous for Shazdeh Garden and Shah Neymatolah Vali Museum. Drive to Kerman, O/N

Day 6: Kerman – Baft (159 Km) - Kerman. Move Toward Khabr-va-Rochon National park in Baft. Khabr Nation Park and Ruchun wild life refuge covers an area of 169200 hectares.

The plain cold and tropical, mountainous subtropical and temperate sites of the region are home to various plant species such as mountain almond, Turk terebinth pistache, nubk tree, bean caper, willow, olive tree, almond, juniper, swallow wort, true mytle, astragal, prickly thrift, Persian globe thistle, borage poppy and colocynth. The main animal species of the region are jebeer gazelle, wild sheep, wild goat, leopard, caracal, wild cat, Pallas's cat, jackal, hyena, black partridge, houra bustard, white-throated robin, see-see partridge, different buzzards, bearded vulture, bonelle's eagle, spur-thighed tortoise, leaf-nose viper, steppe ribbon snake and diadem snake. Cheetah is one of the endangered species of the region. Not long ago, Asian black bear, Persian wild ass and goitered gazelle were also reported in the area. Beautiful landscapes, diverse wildlife and vegetation cover, historical and ancient monuments, frequent springs and proper access roads have made possible tourist and research activities in the region.O/N in Kerman. (B, L)
Day 7: Kerman - Esfahan. After breakfast we check out and head to the domestic airport for a short flight to Esfahan. We proceed on full day tour in Isfahan, visiting of Emam Square, Emam Mosque, Sheik Lotfolah Mosque, Historical Bridges, Alighapou palace, Chehel Sotun Palace, overnight O/N
Day 8: Esfahan - Muteh (163 Km). After breakfast we'll drive to Muteh Protected Area in Isfahan Province. Muteh has high animal and plant biodiversity. The vegetation cover is mainly composed of mountain almond, been caper, wormwood, Persian globe thistle, poppy, salvia, borage, goat's wheat, almond and different astragals. Muteh is one of the best habitats for goitred gazelle in Iran. Other animal species include wild sheep, wild goat, leopard, wolf, cape hare, Indian crested porcupine, gray hamster, gerbil, chukar partridge, see-see partridge, quail, red billed chough, rock dove, golden eagle, falcon, sparrow hawk, vulture, turtle and agama. More than 300 plant species are found here, many of them have medical value. Drive the beautiful Googad Citadel Boutique Hotel for rest.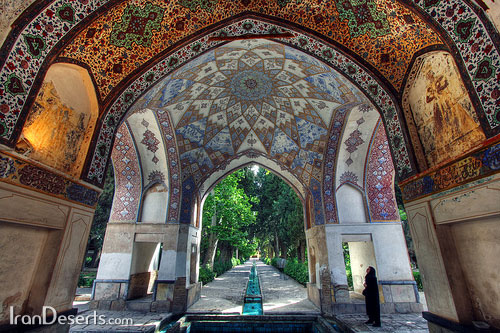 Day 9: Muteh – Kashan (218 Km) - Tehran (247 Km). AM. Drive to Tehran, en route visit visit the historical city of Kashan that dates back over 6000 years. Visit Fin Garden, Borujerdi historical house & Agha Bozorg Mosque. Arrive in Tehran. O/N.
Day 10: Tehran – IKA. Transfer to the airport, flight back to destination.
Email us : info@iranjasminco.com