Damavand Ascent

Mount Damavand is a stratovolcano and the highest peak in Iran and the Middle East. This peak is located in the middle Alborz Range. Mount Damavand could be considered as a potentially active volcano, since there are fumaroles near the summit crateremitting sulfur, which were known to be active on July 6, 2007. Mount Damavand first erupted almost 1.78 million years ago. After several known eruptions around 600,000 and 280,000 years ago, it finally erupted about 7300 years ago.The mountain is located near the southern coast of the Caspian Sea, in Amol county, Mazandaran, 66 kilometers northeast of Tehran.
Mount Damavand has some thermal springs with therapeutic qualities. These mineral hot springs are mainly located on the volcano's flanks and at the base, giving evidence of volcanic heat comparatively near the surface of the earth. The best major settlement for mountain climbers is the new Iranian Mountain Federation Camp in Polour village, located on the south of the mountain.
Day 1. IKA - Tehran. Arrival in Tehran. Our professional English-speaking guide will meet you at the airport and transfer to the hotel. Overnight at the hotel.
Day 2: Tehran - Polur. A/M: after a hearty breakfast, a short city tour of Tehran. We will visit Saadabad, a palace built by Pahlavi dynasty in the north of Tehran. Nowadays it's a vast park with a dozen of museums scattered in its vicinity. You will see how the last Persian monarchs lived and also witness their collections of art. After lunch transfer to the mountain village Polur (1200 m) on the south slope of Damavand. The journey takes about 3 hours. We will stay at a rural house and try local dishes. Also there will be the opportunity to bath in thermal springs.
Day 3. Polur – 3rd Shelter. Early morning drive by 4WD until we reach Gusfandsara camp (3200 m). Next we will start the ascent to the 3rd Shelter (4250 m, 5-6 hours). Overnight at Mountaineering Federation camp.
Day 4. 3rd Shelter - Damavand Peak. Early wake-up. Acclimatization day. If weather conditions are good and group's members state is satisfactory, we will start the ascend to the top of Damavand (5600 m, 5-7 hours). Overnight at federation camp.
Day 5. 3rd Shelter - Polur. Extra day reserved for ascent. The descent all the way back to Polur village. Well-deserved rest in the rural house, thermal springs and delicious dinner.
Day 6. Polur - Tehran. After breakfast transfer to Tehran. On arrival we'll assist you at hotel check-in, after that you'll have some free time.
Day 7. Tehran - IKA. After breakfast we'll go on a excursion to the city center: magnificent Golestan Palace (UNESCO site), dazzling Grand Bazaar and Treasure of National Jewels with some unique precious stones. After lunch you will have free time and the opportunity to buy souvenirs. Dinner, transfer to the international airport.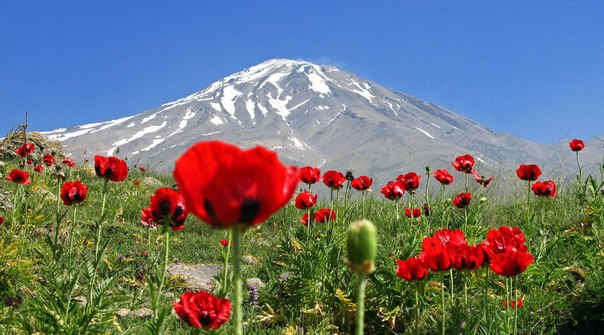 Additional Information: The best time to climb Damavand is from June to August. Temperature at the 3rd Shelter drops to -5 ° C at night. At the top of the volcano it might reach -10 ° C. Snow and volcanic vapors are also possible.
All of our itineraries can be combined with other cultural and educational programs, as well as eco tours and trekking. Don't forget that we specialize in individual tours tailored specially for you, so if you have any requests or suggestions, please feel free to message us at info@iranjasminco.com
Email Us: info@iranjasminco.com