Azerbaijan
Tabriz – Kandovan – Jolfa – Ardebil – Sarein – Zanjan – Takht-e Soleyman - Tabriz
Email us : info@iranjasminco.com
Highlights:
Visit 5 important UNESCO sites in a week

Discover the cave dwelling of Kandovan

Get lost in the largest bazaar in the world

See unique Armenian churches of Iran

Find out what is the Throne of Solomon!
Arrival at Shahid Madani Int. airport, Tabriz. Our will meet you at arrival, help you with all the formalities and transfer to the hotel. Overnight
Day 1. Tabriz - Kandovan - Tabriz. AM. After getting some rest in the hotel, we'll drive toward Kandovan Village. This village exemplifies man-made cliff dwellings which are still inhabited. The troglodyte homes, excavated inside volcanic rocks and tuffs similar to dwellings in the Turkish region of Cappadocia, are locally called "Karaan". See the inside of a cave house, watch the locals' life, visit organic market and have a cup of tea in this peaceful village. PM. Return to Tabriz.
Kandovan troglodyte village

Day 2. Tabriz. AM. Full-day Tabriz city tour. We'll start from the spectacular bazaar of Tabriz, it is one of the oldest bazaars of the Middle East and the largest covered bazaar in the World (UNESCO Site). It consists of several sub-bazaars, such as Amir Bazaar for gold and jewelry, Mozzafarieh in which you can find the most beautiful and luxurious carpets in Iran and even world, shoe bazaar, and many other ones for various goods. Then, we will visit some of the existing historical monuments including the Blue Mosque, Tabriz Citadel and Qajar Museum. PM. Have a glimpse at Saat Tower and finish at the beautiful El Goli park. O/N Tabriz.
Tabriz Bazaar (UNESCO Site)

Tabriz Citadel

Qajar Museum

Blue Mosque

Saat Tower

El Goli Park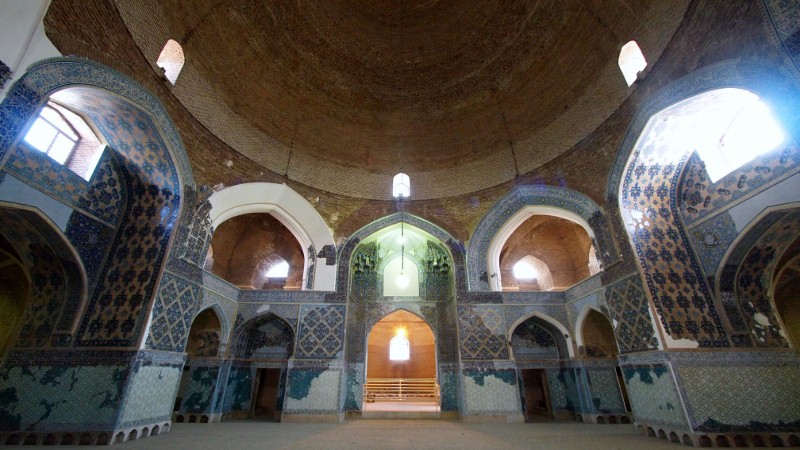 Day 3. Tabriz – Jolfa (138 km) – Tabriz. AM. In the morning visit the St. Mary's Armenian church. It is the largest and oldest Christian church in Tabriz and a notable centre for Armenian national and religious ceremonies held by the Armenian community of Tabriz. This church was built in 12th century AD and in his travel chronicles, Marco Polo referred to this church on his way to China.
Afterwards drive to Jolfa to see St. Stepanus church (UNESCO Site), a beautiful Armenian church which is nested in a deep valley near the river Aras.Its oldest parts date back to the 14th century with the main building having been rebuilt in the late 16th century after being destroyed by an earthquake. The church is built in the style of Armenian or Georgian architecture with a bell tower and a cylindrical tower with a conical roof though archways featuring stalactite work are reminiscent of Persian mosque architecture. PM. Drive back to Tabriz.
St. Mary's Armenian church
St. Stepanus church (UNESCO Site)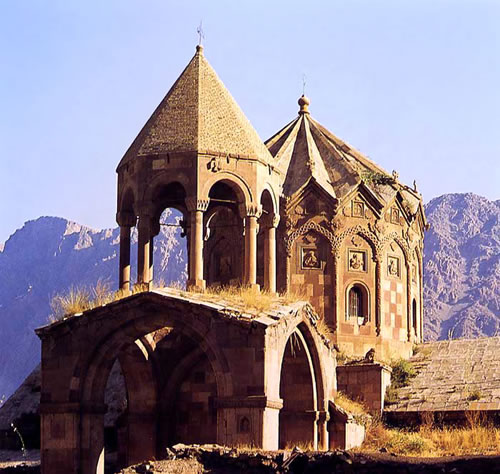 Day 4. Tabriz –Ardebil (214 km) – Sarein (28 km). AM. After breakfast we will drive to Ardebil, a historical city in north-eastern Iran, where the dominant majority are ethnic Azeris. One of the main sights in the city of Ardabil in north-west Iran is the shrine of Sheykh Safi al-Din Ardabili, who died in 1334. The Shaykh was a Sufi leader, who trained his followers in Islamic mystic practices. After his death, his followers remained loyal to his family, who became increasingly powerful. Then we will visit Jomeh Mosque which is a remain from the Saljuqian period. In the walls of the minarets there are two inscriptions belonging to about 700 years ago. These have been transferred to a museum. Ceramic and other objects discovered at this site belong to about 600 years ago (Saljukid period).
PM. In the afternoon, we will visit Ardabil Bazaarin the heart of the Ardabil city, this bazaar stands as old as the Islamic period. Its shape was described by historians as a cross, extending in four directions with simply designed domes. Most sections of the bazaar were constructed and renovated during the Safavid and Zand periods. Drive to the town of Sarein famous for its thermal springs to relax and spend the night
Sheykh Safi al-Din Ardabili Masoleum (UNESCO Site)

Jome Mosque

Ardebil Bazaar

Sarein thermal springs
Day 5. Sarein – Zanjan (363 km). Drive to the city of Zanjan. It is known for its beautiful handcrafts such as traditional sandals, silverware and hand-carved knives. You will see all of these at the local bazaar, as well as 2 caravanseries and a couple of mosques. After that visit Soltaniyeh. Built in the 15th century, this complex is famous monument and the greatest attraction of Zanjan. It is the biggest dome in Iran and one of the most splendid buildings throughout the Islamic worlds. O/N
Soltaniyeh (UNESCO Site)

Zanjan Bazaar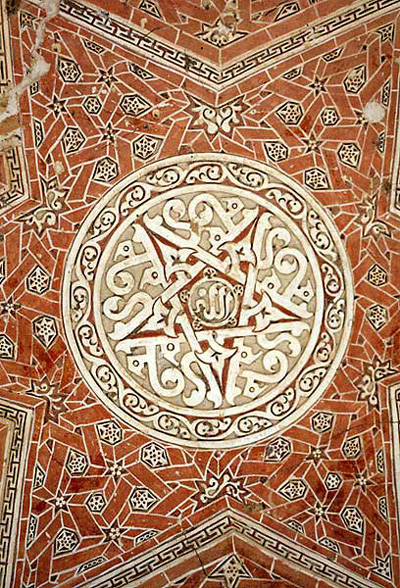 Day 6. Zanjan – The Throne of Solomon (142 km) – Tabriz (326 km). AM. Drive to The Throne of Solomon , also known as Takht-e-Soleiman. It was the site of three ancient Zoroastrian fire altars, in Sassanian times, where Kings and warriors came to worship in these ancient fire temples. Archaeological excavations reveal the site was occupied as far back as the 5th Century BC during the Achaemenid period. This remote, beautiful & peaceful sanctuary of ancient Zoroastrian worship is nestled in a volcanic valley amid the mountainous area of Western Azerbeijan. At the centre of the site is a calm lake arising from a natural spring whose waters are as deep blue as the turquoise mineral mined in Persia. The citadel includes the remains of a Zoroastrian fire temple built during the Sassanid period and partially rebuilt during the Ilkhanid period. PM. Drive to Tabriz. O/N Tabriz.
The Throne of Solomon (UNESCO site)
Day 7: Tabriz. After breakfast you're free to depart any time.